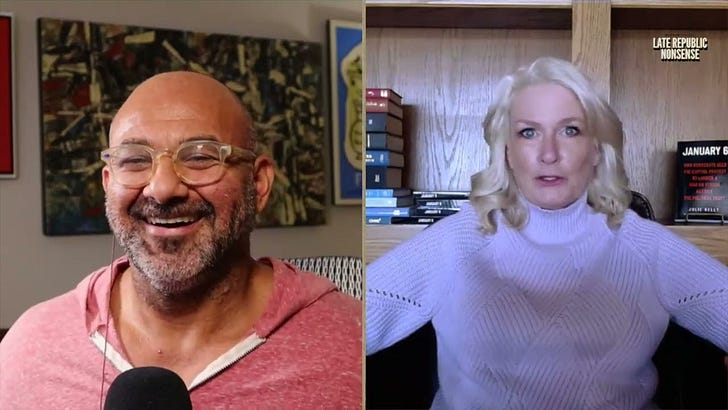 Feb 9, 2022 • 1HR 2M
Julie Kelly: Van Halen, GenX, and Our Political Prisoners
Talking about the generation gap with America's indispensable chronicler of government corruption. Plus: In 1972, Brooklyn's Alice Clark made a perfect soul record that nobody heard (until now).
David Reaboi talks to his friends. I skipped the desktop computer and microphone for the couch and the phone. I had a feeling it would change the ambiance and energy of the chat—making it more intimate, and removing as much of the "podcast" artifice as possible. It sounds exactly like a phone call, because it is. I hope what's conveyed to the listener is a bit of spontaneity, humor, insight, and real affection between the folks speaking.
Episode 14: Julie Kelly
Writer Julie Kelly is one of the most steadfast and supportive friends you can have. She might be the perfect GenX'er—she's always laughing, and, when stirred out of the apathy for which our generation is justly known, she charges ahead and gives no fucks.
I've wanted to do this podcast with Julie forever, but she's so busy. She has covered the two most important stories dealing with government ideological corruption in the last several decades, RussiaGate and then January 6th so-called "Insurrection" at the indispensable site, American Greatness. Her latest book, January 6: How Democrats Used the Capitol Protest to Launch a War on Terror Against the Political Right, is must-reading. It's often been said that, if the Pulitzer Prize meant anything, Julie would be at least a two-time recipient. She's also the co-host—with the wonderful and hysterical Liz Sheld—of the podcast, Happy Hour with Julie and Liz.
We talked about Van Halen, the quintessential rock band for growing up in the 80s. We talked about driving around in high school, and why the kids today are content with staying home or taking Ubers. We talked also about RussiaGate and January 6th, and what these two stories have in common.
---
Late Republic Nonsense is a reader-supported publication. To receive new posts and support my work, consider becoming a free or paid subscriber.
---
Intro Music
In 1972, Brooklyn-born singer Alice Clark made her only LP—with Count Basie alum and expert arranger Ernie Wilkins—for the Mainstream label. In those days, signing a pop-soul singer to a small and niche jazz label meant that distribution would be an uphill climb, never mind the chance of radio play. Even as the music was impeccable, the record flopped. Alice Clark left music and went back to living her life in Bed-Stuy, and died of cancer in 2004. Only a few years ago, the one album she made was rediscovered and reissued.
"Never Did I Stop Loving You" is delirious shot of optimistic and catchy early 70s soul, delivered with passion and precision. This is a perfect record.