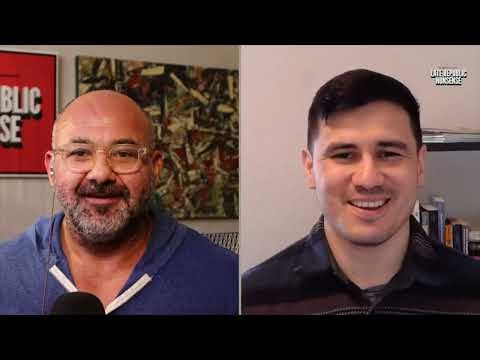 Mar 9, 2022 • 1HR 6M
Pedro Gonzalez: Ukraine, Russia and the Madness of Crowds
Discussing the politics of moral panics with the Chronicles Associate Editor. The Plus: John Coltrane's "Russian Lullaby."
David Reaboi talks to his friends. I skipped the desktop computer and microphone for the couch and the phone. I had a feeling it would change the ambiance and energy of the chat—making it more intimate, and removing as much of the "podcast" artifice as possible. It sounds exactly like a phone call, because it is. I hope what's conveyed to the listener is a bit of spontaneity, humor, insight, and real affection between the folks speaking.
Episode 16: Pedro Gonzalez
The madness of crowds, indeed. One of the defining characteristics of this age of moral panics is that it doesn't take much to become a dissident; departing from the orthodoxy of the narrative only takes a bit of inconvenient questioning. Once you've done it, you become an enemy to be dealt with: a traitor, a racist, a Covid murderer on a genocidal scale.
The latest totalizing moral panic, of course, is Russia's invasion of Ukraine—which, we are urged to cheer Zelensky and his Ukrainian forces and jeer Putin and his Russian hordes. This is a black-and-white struggle for Democracy against a conniving autocrat with designs on faraway places and capitals, and the whole thing began just a few weeks ago. While most everyone who dissents from this reductionist narrative acknowledges that Russia's war on Ukraine shouldn't be happening and feels deeply for the Ukrainians resisting a foreign force making war on their country, it should be uncontroversial to note that a long road of foreign policy decisions and posturing got us to this point.
Pedro Gonzalez is one of the most prolific and fearless young investigative journalists on the Right. is the Associate Editor at Chronicles. He has in invaluable Substack, Contra, where he posts podcasts, investigative reports as well as roundups of his other work. In this episode, we focused exclusively on the crisis in Ukraine from an American perspective.
---
Late Republic Nonsense is a reader-supported publication. To receive new posts and support my work, consider becoming a free or paid subscriber.
---
Intro Music
Russia is in the news—and, of course, there's a current very troubling totalizing moral panic of cultural cancellation targeting all things Russian, from cats to classical singers. I chose "Russian Lullaby" to open this episode to push back, in some small way, on this avalanche of insanity. Of course, the song is by ubiquitous and quintessentially American composer, Irving Berlin. And the performance is by another quintessentially American genius, John Coltrane.
"Russian Lullaby" is the final track on Soultrane, the saxophonist's classic opening statement for what's known, since it was named by critic Leonard Feather, as Coltrane's "sheets of sound" phase in 1958.