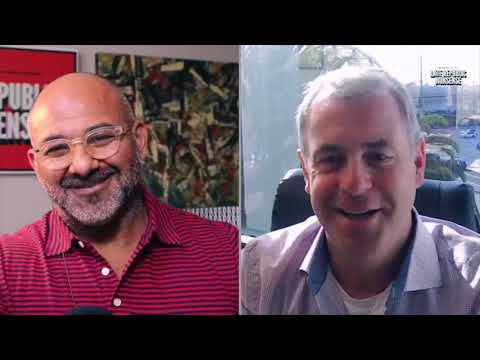 Jun 23, 2022 • 1HR 15M
Kurt Schlichter: In Praise of the New Rules
Catching up with the author of his forthcoming tenth book, "We'll Be Back: The Fall and Rise of America."
David Reaboi talks to his friends. I skipped the desktop computer and microphone for the couch and the phone. I had a feeling it would change the ambiance and energy of the chat—making it more intimate, and removing as much of the "podcast" artifice as possible. It sounds exactly like a phone call, because it is. I hope what's conveyed to the listener is a bit of spontaneity, humor, insight, and real affection between the folks speaking.
Episode 17: Kurt Schlichter
On the cover of his new book, We'll Be Back: The Fall and Rise of America, the attorney and prolific writer of both non-fiction and fiction bestsellers Kurt Schlichter stares into the camera and points his finger at the reader. That's appropriate, because there are many hard questions and serious issues to consider in this Late Republic.
We begin by talking about the liberating effect of keeping to a schedule; Donald Trump and Ron DeSantis, and the importance of competence and predictability; how to clean out the woke military; and a bunch of other things.
His Town Hall columns are always gratifying and entertaining to read—not only because he's often right on the money—but because he's brutal, funny, and never breaks character. This is who he is all the time: an uproariously funny, sharp, and a very good friend.
---
Late Republic Nonsense is a reader-supported publication. To receive new posts and support my work, consider becoming a free or paid subscriber.
---
Intro Music
For more than 30 years, Ribot was the first-call guitarist for a variety of adventurous musicians who were looking for something brilliant but slightly deranged—like a chromatic solo that's enough to raise an eyebrow, but played with the most convincing and hip tone. He fit like a glove into the unique sound-worlds of Tom Waits' classic 80s records, as well as defining the sound of bands like the Lounge Lizards and John Zorn's chamber Masada groups.
When I lived in New York City, one of the most exciting bands to see was Ribot's Downtown Cuban group, Los Cubanos Postizos. They seemed to be playing all the time, and all the time they got better. "El Divorcio" is from their second album, and the reason for its inclusion here should be obvious. Listen for the nasty guitar solo, though.